The Getty Center is an impressive artistic space that houses outstanding works of many different forms of art, such as paintings, drawings, sculptures, photography and much more. Built as part of the Getty Museum, it is also famous for its spectacular exterior and breathtaking views of Los Angeles from the hill it is located on. 
With an unbeatable location on top of one of the hills of the Santa Monica Mountains, the Getty Center is a modernist complex built with travertine stone and created using substantial donations from entrepreneur and philanthropist J. Paul Getty along with his private art collection.
Inside the Getty Center
When you arrive you can hop on "The Getty Center Tram" that goes from the car park to the top of the hill, which is an attraction in itself as you get amazing views of the city on the ride up.
When you reach the top, you'll be taken aback by the 16,000 tons of beige marble that make up this incredible work of architecture. Catching the light of Southern California in its texture, this unique finish contrasts perfectly with the curved elements of the design and the well-kept gardens in the complex.
Throughout the different rooms are extensive collections of Italian, Dutch, French, Spanish and British paintings and sculptures, including masterpieces by great artists such as Da Vinci, Goya, Klimt, Rodin, Rembrandt, Manet, Monet, Munch, Van Gogh, Cézanne, Van Dyck, Gauguin and El Greco. 
What's more, the gardens are a magnificent work of art that delight visitors with hundreds of different plant species, fountains, streams, and even a natural gully.
For art lovers the Getty Center is a must-see but, even if paintings and sculptures aren't your thing, you'll still be able to enjoy incomparable views. Admission to the Getty Centre is free for all visitors.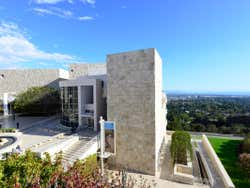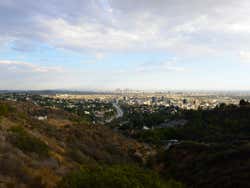 Schedule
Tuesday to Sunday: 10 am to 5:30 pm.                                                                                                                       Saturdays: 10 am to 9 pm. 
Price
Free entry.                                                                                                                                                                                  Parking: US$20 (US$15 after 3 pm).
Transport
Bus: numbers 234 and 734.