Universal Studios Hollywood
Hollywood is a place where dreams come true, especially in Universal Studios Hollywood, a park that offers its visitors the chance to see the magic and fantasy worlds of their favourite movies and series in real life. 
With a unique pairing of a theme park and a recording studio, Universal Studios Hollywood combines recording sets, rides, and themed restaurants with well-known characters such as The Simpsons, SpongeBob, Shrek, and the Minions.
Park Highlights
Universal Studios Hollywood has an infinite number of places to explore and enjoy. These are some of the most popular areas:
The Wizarding World of Harry Potter
The most magical part of the park, of course, is dedicated to Harry Potter. With the iconic Hogwarts Castle standing proudly in the center, you can do things such as fly on a hippogriff and get transported to the wizarding world with a butterbeer in the pub.
Springfield
Fans of The Simpsons will get the chance to stroll through the streets of Springfield, shop at Apu's Kwik-E-Mart, try a burger at Krusty Burger or have a beer at Moe's bar.
Studio Tour
One of the most legendary parts of the park is the area that offers you the chance to see how they film some of the most iconic movie scenes in the world. 
Cinema
Universal Studios Hollywood is an incredible park ideal for film and series lovers as well as children. To see the whole park at a leisurely pace it's a good idea to book a whole day.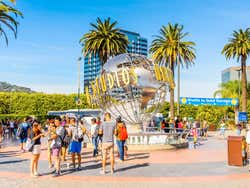 Schedule
Every day from 10 am to 6 pm. (Varies depending on the day and season).
Price
1-day ticket: from US$ 109 to US$ 129
2-day ticket: from US$ 149 to US$ 169