Museum of Contemporary Art
The Los Angeles Museum of Contemporary Art (MOCA) has three different branches that showcase pieces of American and European contemporary art created since 1940.
The Los Angeles Museum of Contemporary Art (MOCA) houses a collection of over 6,000 works of which more than 90% were donated by private collectors, and some of which were gifts from the artists themselves.
Branches
The Los Angeles Museum of Contemporary Art has three locations in different areas of the city, four if we consider an area of Nevada desert known as "Double Negative" which became part of the museum's permanent collection in 1985.
MOCA Grand
Located in the heart of Los Angeles, next to the Walt Disney Concert Hall and The Broad Museum, MOCA Grand was built in 1987 with a classic architectural style and currently constitutes the headquarters of MOCA, which displays pieces from the permanent collection, including works by European and North American artists from the 1940s to the present.
MOCA Geffen
Inaugurated in 1983 as a temporary exhibition space named "Temporary Contemporary" during the construction of the Grand Avenue headquarters, the building was originally built as a warehouse in the 1940s and subsequently renovated by Frank Gehry to maintain its appearance as much as possible.
The laid-back feel to the museum has earned it great popularity, so although it opened its doors as a temporary headquarters, it now houses permanent exhibitions.
In 1996 the museum received a $5 million grant from the David Geffen Foundation and was renamed "The Geffen Contemporary".
As the largest of the venues, it usually exhibits large sculptures and recent works by little-known artists that require large exhibition space.
MOCA PDC
MOCA's newest headquarters, located at the Pacific Design Center in West Hollywood, was inaugurated in 2000 to showcase the works of upcoming artists and offer ancillary programmes based on their permanent exhibitions.
Visiting
Fans of contemporary art shouldn't miss a visit to any of the branches of this incredible museum.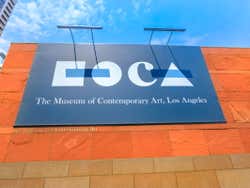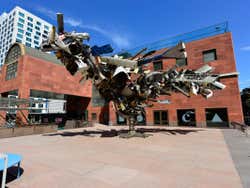 Price
MOCA Grand and MOCA Geffen:
Adults: US$ 15
Seniors over 65: US$ 10
Students: US$ 8
Thursdays, 5 pm - 8 pm: Free entry
MOCA PDC: Free entry
Transport
Bus: number 910