Ripley's Believe It or Not!
Shrunken heads, six-legged pigs... Discover weird and wonderful objects from all over the world at this fascinating museum. There are now 30 Ripley's Believe It or not! museums in located in different countries around the world.
History
Robert Leroy Ripley was a caricaturist and philanthropist who was always interested in strange events and passionate about bizarre and unusual objects. And it has to be said, sometimes reality outdoes fiction!
Considered an eccentric person because of his peculiar way of thinking and dressing, Ripley devoted half his life to travelling and collecting the strangest objects he could find all over the world.
Following the publication of his first book, Ripley became a millionaire, so his collection began to grow rapidly. Since his death in 1949, his memory has been kept alive in each of the objects in his fascinating exhibitions.
Exhibitions
The Ripley's, Believe It or Not museum in Los Angeles is made up of over 10,000 square metres and two floors, housing more than 300 peculiar objects in eleven different themed exhibitions.
Among the fascinating exhibitions, you can find artefacts such as Jivaroan shrunken heads alongside a video explaining the rituals carried out for the shrinking process, a nine-foot-tall robot made from car parts and a real vampire slaying kit.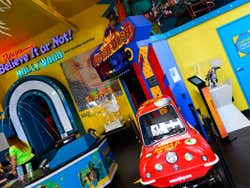 Schedule
Every day from 10 am to midnight.
Price
Adults: US$ 25.99
Children under 4: free